The Band and it's Happenings
"I don't know if you believe in this stuff, but...You have 'that sound'." Associate Professor Berklee - Henrique DeAlmedia
'JAZZ FROM THE CALIFORNIA COAST'

Staff Writer:
Jazz Improv Magazine
Sony / Columbia Records
JazzReview.com Magazine
eJazzNews
BeBop Spoken Here
Jazz News, Reviews, Performances, Bios,
Humor, Photos, Anecdotes and Opinions...

John Gilbert
Contact info: johnnyjazz1@msn.com
Bob Levey, Homey The Intervention Band
Tracks: Autumn Leaves, Groovin' High, Israel, I Thought About You, Peri's Scope, Solar, Very Early, You Go To My Head, Beatrice, Lament, Lament.

Musicians: Bob Levey (drums), Justin Pfeifer(Piano), Ashton Taufer (Bass), Tim Fox (trumpet, Piano)

This is an album that the aficionados of bop will thoroughly enjoy. The ensemble gathered here are first class musicians who ply their trade with both joyful abandon and sensitivity. The session was done in a day giving it the feel of extemperaneous 'swing' as the glorious bands of Bird et al exhibited in the heyday of jazz. There is bop from top to bottom, with each tune carefully chosen.

"Groovin' High" is a prime example of jazz as it should be played. Pfeifer's piano opens matters like a cool breeze. Tim Fox wails in fine fashion weaving a message around the melody. Justin Pfeifer's joins in with a Powellesque solo. Bob Levey has time like a Rolex and his accents drive this tune along like a man on a mission.

"I Thought About You" Tim Fox says hello with a soulful and sensitive melody tribute to Mercer, Van Heusen and Leiber. Nice brush work by Levey with no undo frills. The bass solo has the sound all basses should have. This is a lovely tune done with all the respect it deserves....Mr. Peifer comps beautifully adding even more tasty chords to complete this gem.

"Peri's Scope" is a jaunty excursion into the land where bop resides. Fox trots in with another idea filled solo that sweetly swings. The drums back Peifer's offerings and the bass and drums stroll merrily along hand in glove.

"Lament" Like a susurrus the stimuli of Bill Evans is heard in Tim Fox's solo, which I define as perfection in form, the brushes add a lot to this song.

This is a CD that the true cognoscenti will relish along with the jazz litterati. It's beauty lies in the fact that the tunes are treated with the respect they deserve (as previously mentioned.) I would reccommend this recording with no hesitation. 5 Stars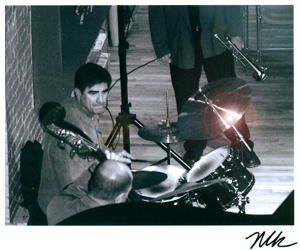 Bob Levey - Drums
Bob Levey is the son of Bop drummer Stan Levey who pioneered the original Charlie Parker and Dizzy Gillespie groups in the mid 40's and then went on to play with every major star in the music business from that period.
Bob in the 60's studied with many well-known drummers and went on to play with Jeannie Brown for both a year long engagement at The Rainbow Bar & Grill on the Sunset Strip and also recorded with her for the dance show "Boss City". She was one of the main stars of the Musical "Hair" in Hollywood California. He has played with Charlie Albertine (American Bandstand Theme), Jimmy Espinosa from "Thee Midnighter", Phenias Newborn Jr., Big Mamma Thornton, Joyce Dewitt from the show 3's a Company, Duke Mitchell singer, song writer, actor "Make The World Go Away", Bobby Nutcoff violin player with The Electric Flag Orchestra, and Neil Young's band Crazy Horse , along with many well known rhythm & Blues players and section and players. He played in a great young jazz group for about a year and a half with some young players who went on to have great careers, one being Ted Nash Jr. who performs with Wynton Marsalis in the Jazz At Lincoln Center Orchestra. Also in that band was Randy Kerber jazz pianist and Hollywood film composer and arranger, Los Angeles and Portland jazz pianist Phil Goldberg and many more.
Before giving up playing music professionally to raise his family, Bob performed in many clubs in the L.A. area; "The It Club", "Marty's on the Hill", "Gazzari's", "Pandora's Box", "The Troubadour" etc.
Levey has also contributed to the world of Hip-Hop, most notably being sampled on the platinum selling "When the Shit Goes Down" by Cypress Hill and De La Soul's "Intro" on the hit CD "Buhloone Mind State". Bob recorded the original tune titled "Deep Gully" with the progressive Latin Blues group of the 60's "The Outlaw Blues Band". Other groups that have used this funky cut include Akinyele and Breakestra.
Since taking up the drum throne again, Bob has played gigs from the St. Regis, to Summer Festival concerts for Jazz Aspen Snowmass, to "The Ten Spot Series" at The Thunder River Theater in Carbondale, and also performed at the Glenwood Springs Summer of Jazz Festival. Bob split the bill with Artt Frank, drummer with Chet Baker for 20 yrs, for a tribute to Stan Levey, his father. Bob also produced a series of concerts that featured the arrangements Cannonball Adderley's version of "The Fiddler on the Roof". Currently, Bob Levey and his "Intervention Band" has released the new CD "Homey". Homey is straight from the heart.
"The album name Homey refers to coming home. We have to go back to our roots."
Charlie Shoemake - Teacher to some of the jazz giants. Music director for the Clint Eastwood movie "Bird", Now Music director for ..."The Sounds Of Shearing (George Shearing) under the direction of Charlie Shoemake."
Bob,
You have no worries about doing anything that Stan wouldn't approve of with this cd. I'm sure that he would enjoy it a lot. I know I did. I'll tell you...if I was on the road and stopped off in Colorado and heard your group I would be impressed. It's extremely rare to hear music of this quality outside of the big towns. Surely you and your guys are the best players in your area.
Thanks again for sending me the recording.

My very best regards,
Charlie

p-s In your 4's and also in your time keeping I heard your dad's influence and, and as you know, that's certainly not a bad thing.
The great Brazilian Drummer Henrique De Almedia who has played with Victor Mendoza on the Lettermen Show and many many Jazz stars:
"I really enjoyed your playing as well. One of the things about your playing that I remember enjoying was the amount of space you used when comping (left hand) behind the soloist. You did what Airtio Moreira said once in a clinic. He learned from Miles Davis: "you listen, and then play, and then you listen then play it..." Talk to you soon, Henrique

"I don't know if you believe in this stuff, but You have "that sound" when I first heard you in that Colorado Jazz Festival I asked the guys "Who is this drummer?" because it sounded like an old soul it sounded impregnated with tradition may be it is in your DNA?" Henrique
Louis Hayes, the great Jazz drumming legend, Horace Silver, Cannonball Adderlley, talking about playing a musical figure:
"You have to play it with feeling Bob, well you know about that"
Paul Barrare- vocalist/guitarist Little Feat:
"Cool Stuff. Really cool old-school jazz, my friend. Play on, brother. We received the Cd's. The music is wonderful. Thank you." paul
Scott Harper - KAJX and Jazz Aspen Board Member:
"Just had a chance to listen to the tunes you sent me. All I can say is Wow! You know it will get air time up here!"
Chad Anderson Cymbalholic owner:
Dear Bob Levey, You have received a new private message at Cymbalholic Forums from CHAD_ADMIN, entitled "Re: Giant Steps". "Bob! Man, I really enjoyed that! I downloaded the whole concert and then watched it on my computer here at work. I dug the in/out funky Little Drummer Boy! Actually I dug all of it. You've got that touch, which I didn't doubt that you had at all. I knew you'd have it!!! I was especially digging the trumpet player a lot...I enjoyed his solos and how the two of you sounded together. You play with such great sensitivity to the group dynamics. I'm constantly working to improve on that. Man, thank you for directing me to this! I wish it was on youtube also". "I appreciate your spirit...and I haven't heard you play outside of that great tune that De La and others have sampled, but I already know from your spirit that your heart is in the pulse of the music and because of that, I know it sounds great..... Peace and bright moments and thanks. Chad
Abraham Burton, sax player for Louis Hayes and Art Taylor:
The beauty is that I can see the importance of this music in your life, you are living it... I can hear the drive in your ride cymbal on Fiddler and I can feel the depth of your love in your sound... it's beautiful man, much respect my brother... Thank you for the package with the Cd's, the video, and the wonderful pictures (that will go up on my wall!) I very much look forward to seeing you again and hearing from you soon Take care my brother By the way, I don't have Louis's email but I'll give him a call and send it to you.
Peace AB (Abraham Burton)
Phil Goldberg, Jazz Pianist L.A. Portland Scene:
"Went to your music site and it sounds fabulous!"
Contact Information:
Bob Levey
"The Intervention Band"
0031 Duroux Lane
Basalt, Co 81621

Next Page